February 20, 2016
SEPTEMBER AND OCTOBER, 2017!
BIG SALE ON TWO-HOLE LENTIL BEADS
WERE $2.80 A STRAND
NOW TWO FOR $1!!! FREE PATTERN WITH PURCHASE
NEW GLASS SUPPLY FRESH FROM DAVID CHRISTENSEN!
COME IN TO SEE THE BEAUTIFUL COLORS, PLUS HE'S WORKING ON A NEW STYLE OF GLASS THAT IS FASCINATING…COME IN TO SEE.
Plus, new beads in size 8 and size 11 demi's, lots of size 15s, glass flower spacer beads, iridescent bug wing and fern daggers, piggy beads, super duos and mini super duos, and more!
♦
LOTS OF NEW CLASSES! YEA!
Please call the shop to sign up…(904) 829-8829
These are the dates…scroll down for full class descriptions, prices and photos (in alphabetical order!)
SEPT 1, Friday, 3 – 5 pm: VIKING KNIT
SEPT 5, Tues, 6 – 8 pm: METAL WALL-HANGING new!
SEPT 7, Thurs, 6 – 8 pm: LINK BRACELET
SEPT 12, Tues, 6 – 8 pm: POLYMER CLAY TINY HOUSES
SEPT 14, Thurs, 6 – 8 pm: TORCH-FIRED ENAMELING
SEPT 15: Friday, 3 – 5 pm: DOUBLET BEADED BEAD new!
SEPT 19, Tues, 6 – 8 pm: ETCHING COPPER
SEPT 21, Thurs, 3 – 6 pm: POLYMER CLAY GUILD
SEPT 26, Tues, 3 – 5 pm: BEADED BEAD CLUB
SEPT 28, Thurs, 6 – 8 pm PEARL KNOTTING
♦
OCTOBER 3, Tues, 6 – 8 pm: WICKED WITCH BOOKMARK new!
OCTOBER 5, Thurs, 6 – 8 pm: TORCH-FIRED ENAMELING
OCTOBER 10, Tues, 6 – 8 pm: ART JOURNAL COVERS new!
OCTOBER 12, Thurs, 6 – 8 pm: COPPER SOLDERING
OCTOBER 18, Weds, 2 – 4 pm: ART JOURNAL CONTINUED! new!
OCTOBER 19, Thurs, 3 – 6 PM: POLYMER CLAY GUILD
OCTOBER 24, Tues, 6 – 8 pm: CHA-CHA BRACELET
OCTOBER 26, Thurs, 6 – 8 pm: MOSAIC FLOWER POT new!
OCTOBER 31, Tues, 3 – 5 pm: BEADED BEAD CLUB
♦
* * * * IMPORTANT !!! * * * *
If you see a class selection below that is not offered in the next two months,
but you would like to take it, just call me!
We can schedule most of these classes into the work week
(ANY open day at 11:00 a.m.or 2 p.m.) or an evening or Saturday.
Same applies if you are a visitor to St. Augustine – let me know
when you are coming, and we'll make a date to have the class of your choice – (904) 829-8829.
ART JOURNAL COVERS: Using polymer clay and several fun texturing techniques, you will create two book covers (size can be up to 6 x 8″) in this class. In a following class (October 18 from 2 – 4) Michelle Robideaux Pent will teach you how to make the hand-made signatures that comprise the journal, and then how to connect them to the journal covers. Caution: addictive! They make great gifts. $30, includes your supplies (beginners, you will need a list of supplies to bring).
ART JOURNAL, CONTINUED!: In this class, Michelle will teach you how to make the actual journal part of the book. You will learn that each section is called a signature, how to make a hinged spine to connect hard covers, how to sew the signatures to the spine, what materials are good for each section, and much more. $30, supplies included.
BEADED BEAD CLUB: On the last Tuesday of each month, we'll be teaching a new beaded bead. When you have made several styles, they will all go together into a fabulous necklace! Of course, they can be given as gifts, individually, made the same but in various colors, made into earrings or bracelets…the sky is the limit. So come and join us once a month for fun, and to expand your horizons. Cost is $10 per person, which will include a pattern. BYOSupplies, or buy beads here.
BEAD STITCHING WITH SHIBORI RIBBON: A new sensation, the most beautiful silk ribbon are hand dyed and pleated, and then stitched down to a foundation fabric and embellished with beads. This class will get you started. Bring your favorite bead color palate – and supplement the cabochons, rivolis, daggers you see here from our stock. $35 for the class, needle, thread, foundation fabric – other supplies will be extra.
BEGINNING BEAD WEAVING: Simple Stack Bracelets. These little beaded gems take 30 minutes to make! Make three, seven, ten…give as gifts, or just make them in all colors to wear together and to match any outfit! Little bit of bling, and SO easy to begin beading with seed beads. $35, includes your supplies.
BEADING BASICS: You will learn about tools and materials needed to do simple bead stringing. We will make a bracelet, and you will learn how to attach a clasp and finishing techniques. We will also learn the "hangman's noose," which is a wire work technique for making closed loops, used for earrings, pendants and more. The class is $15, plus your supplies.
CHA-CHA BRACELET: Always fun to learn, the "cha-cha bracelet" is very never the same twice. You can use your bead stash, shells, charms…and make it new for summer, or even start a few for Christmas gifts. $25 class fee, supplies extra.
CHAIN MAILLE: INCA PUNO BRACELET: This is an easy chain to create…and it is a timeless look. Your choice of metals…kits are available in copper, or non-tarnish brass or silver. $25, supplies extra.
CHAN LUU STYLE WRAP BRACELET: Very popular bracelet style created by designer Chan Luu, this bracelet has held on in popularity for years. It is not a difficult technique to learn, but also not for the faint of heart…it takes some time to overcome tangled threads and double needles! If you have been wanting one, and didn't want to spend the big bucks, this class is for you. $25, plus your supplies.
COLD SHOP SILVERSMITHING: This is an odd name for simple metal-working. We will make focal pieces out of heavy gauge wire, pendants, and clasps…we will use alphabet stamps and hammer words into copper/brass blanks, dome them, hammer in some texture….in other words, create unique metal components NOT using heat. $35, includes all your supplies.
COLD CONNECTIONS: It's a riveting class. ha ha We will use copper and other found objects to incorporate into a pendant…and learn how to join things without heat. Bring your own buttons, old coins, pretty cans, etc. and I'll provide copper sheet, rivets, wire and more. $35 class fee.
COPPER SOLDERING: Copper is such a great material to learn on…it's price takes all the "fear factor" out of learning a new technique. We will work on the torch, and use a copper colored solder to make unique bezels. $35, includes all your supplies.
COPPER SOLDERING – IMPRISONED LOCKET: Have you been wanting to work with a hinge? There are many ways to make hinges, and we'll work on the simplest kinds. You will be able to hide a treasure inside your small hinged box, which you can wear as a pendant. Bring your ideas, treasures and little photos and we'll create a one-of-a-kind keepsake. $35, includes all your other supplies.
COPPER SOLDERING – LITTLE BOXES: Pretty much the same thing as above, but we dedicate the time to making and soldering these little pendant frames that can hold all kinds of mixed media goodies. $35, includes all supplies.
CRYSTAL AND PEARL BRACELET: This creation of Kim Williams' is very delicate and airy. You can obtain a list of materials needed when you sign up. Come and join us to make this lovely, dressy piece. $35, plus supplies.
CUBES BRACELET: Kim Williams has yet another wonderful new beaded bracelet, using size 4mm and 6mm cube beads as integral parts. Please join us for this lovely bracelet! Great for gift-giving…it's never too early to start on that Christmas list. $35, plus supplies.
DAISY TOPPED BEADED BEAD: We've been obsessed with making beaded beads lately, and this is one of Kim's with these cute little "forget-me-nots" on top. We'll have some in stock, or you can always use your silver daisy spaces. At any rate! Another fun bead to make to add to your collection. Come and join us! $35, plus supplies.
DARE TO DREMEL: A Dremel tool is a high-speed rotary drill that crafters can use to do myriad tasks. I will teach you about the different parts of your drill, and the accessories that I use every day. We will concentrate on uses for jewelry, including drilling glass, shells; cutting, filing and polishing metal, and much more. You Will be sent home with a "drilling station" and diamond drill bit. Class fee is $35, bring your own Dremel!
DOUBLET BEADED BEAD: This is a fun little bead that is actually two bead classes in one. You make the first part of the bead, and if you want you can stop there. It looks like a Pandora spacer bead. Then, you add onto the bead to make a complete one (as shown in the photo). They work up quickly, and Kim Williams has a bag full so you can see all of her color combinations. They look great strung together! $35, supplies extra.
DRAGON EGGS BEADED BEADS: Designed by Sherri Moroshok for the Bead Smith, these little darling beads use the new mini super duos, plus your 11's, 15's and fire polished beads. You'll love putting them together and using up your bead stash! Great for little gifts…they make a beautiful pair of earrings. $25, plus your supplies.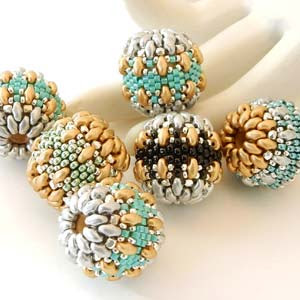 EASY CRESCENT BRACELET: If you like quick and beautiful, this is a great bracelet to learn. You can make one in under an hour (once you get the hang of it) so it's a good candidate for gift-giving. Lovely beads too! $20, plus your choice of beads (and a written pattern to take home).
ETCHING COPPER: This is a fun technique to know if you work with metals…you can mask off areas to create a pattern (with various methods), soak in an etching solution for an hour +/-, and get lovely texture and pattern on your copper! As you can see in the photo, I etched some copper pipe sections that were later enameled or patinaed. $35, includes your copper and all materials.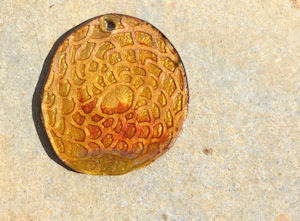 FAUX-FINISHES ON POLYMER CLAY AND MORE: We will be using Christi Friesen's "Swellegant" line of paints and patinas that can be literally used on anything, to make them look like old, weathered metals. We will use molds, cookie cutters, shells, metal filigrees….combine with polymer clay (or not!) and make some really dynamic and unusual pieces. All formulated to be safe for you and the environment, these products will have your imagination going wild. $35 for the class. Please bring some scrap polymer, molds, shells…we'll have fun.
FLOWER POWER BRACELET: This intermediate bead weaving class is for you if you have a good foundation in following a pattern. We will be using some new bead shapes, which include pips, triangle beads and superduos, as well as rivolis, 11º and 15º beads. It's really a very stunning bracelet! Treat yourself and take this fun class with Kim Williams. $35, plus your supplies.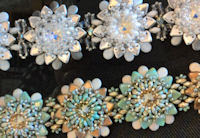 FREE-FORM WIRE WRAP: This is that class you've been looking for – all that beach glass,and what to do with it? You will learn how to do a few techniques that will get you on your way to designing your own pendants, wrapping treasures that have not been drilled. $35, supplies included. Bring your own beach treasure to wrap if you have one!
FUSED STERLING AND COPPER: Almost imitating reticulated silver, this very simple technique will broaden your skills and add another color and texture to your work. If you have been making jewelry and have any sterling scrap at all, bring some with you. Ellen Solomons came by and taught us this a few weeks ago, and we love it! It involves the torch, pickle, filing, patina and more. $35, your supplies included.
INTRO TO BEAD WEAVING: Bead weaving is a technique using seed beads, needle and thread to "weave" beautiful intricate patterns to use in all kinds of jewelry applications. We will begin with Peyote stitch, and incorporate more stitches as you are able, to create a free-form bracelet that will be unique to you. You can bring your own bead stash, and supplement with treasures from the bead chick. $30; needle, thread and instructions included.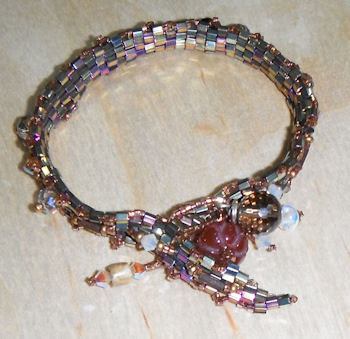 KUMIHIMO WITH FOCAL BEADS: Kim Williams will help you take the next step in your Kumihimo bead weaving: how to braid a beautifully beaded neckrope with focal beads! She will guide your color choices and demonstrate the steps you will need to take to make a beautiful collar, like the picture shown. Your own large hole beads are welcome, but we also have some for sale here at the bead chick! $25, beads extra. Some prep required before class.
LINK BRACELET: If you want to play with the torch and copper, this is a good intro class. We will make each link out of 18 gauge copper wire, ball up one end in the torch, clip and form to connect them into a light weight bracelet. You will learn to use copper solder, how to form your clasp, plus torch safety and familiarity. The class cost is $35, and includes all your supplies. Wear comfortable cotton clothes, and closed toe shoes.
METAL WALL-HANGING: An interesting way to incorporate found objects from the beach, the yard, earrings that you lost one of…I have some drift wood, but if you have a piece you'd like to use, please bring it. The one pictured below is 10″ wide and 12″ long, not too big. We will weave copper wires, fiber, sticks…whatever! Tools used will include the Dremel and a torch. Bring any accessories you'd like to incorporate into it. $35, copper wire and sheet included.
MICRO-MACRAME': Feeling knotty? We can help! We'll apply nylon cord and beads and you'll end up with a pretty pair of earrings. This is a simple beginner project. You can choose your own colors, so be thinking of that outfit you want to match. $35, supplies extra.
MICRO-MACRAME' LEAF NECKLACE: These little gems can be made in any size, or color…made individually and sewn on or together later…very versatile! This is a beginner class for macrame', but if you are experienced and have not made leaves yet, this class is also for you. $20, plus your supplies.
MIXED MEDIA COPPER NECKLACE: This is an easy necklace to create, because all of the "more difficult" components have been made for you to put together. The enameled pendant, large soldered links, and the clasp are in your kit (your choice of turquoise, pink, or ivory colors) so you will learn: how to join chain to beading wire, how to open and close jump rings and the "hangman's noose" wire connection. $55, all supplies included.
MIXED MEDIA EARRINGS: This class is a good mix of wire work and resin. We will work on frames for our photos, hammer them out, and then pour the resin to make them "one." It takes a day for the resin to set, so you can make a date to come back and add the earwires. Fun for gifts! $25, includes all your supplies.
MOSAIC FLOWER POT: Debi James taught me years ago how to make a cool flower pot, and in the process how to do just about any kind of mosaic. She's kinda famous around here…so come take my class and make your own. You can stick almost anything to one of these flower pots…so bring some interesting things from your stash…broken dishes, shells, photos, beads, it all works. $35, all materials included. Pot is 8″ across the top, and 7″ tall.
NETTED BEADED BEAD AND BANGLE: Kim Williams teaches this very elegant beaded bead using 2 sizes of Swarovski Pearls and seed beads. Just repeat the center a couple of times, and you have a bangle to match! An early class, this one is featured at 3 pm in the afternoon. Kim's an excellent teacher – come and join us and start making Christmas gifts early! $35, plus your supplies.
PEARL KNOTTING: There is something elegant about a knotted bracelet or necklace. Is it more than just pearls? Of course! Even tiny beads can be knotted; you just need this great technique and some time. $35 for the class, your knotting silk cord and tool are included. Bring your own beads, or shop our wide selection.
PEARL KNOTTING: CRYSTAL LARIAT: Just a variation…this one you make long enough to wrap twice around your neck for a choker length, or wear long.
POLYMER CLAY EXTRUDED CANES: Want to make some quick and easy canes? With the extruder, it's easy! Quilt patterns, dot canes, geometrics…you can build your cane library in just a couple of hours. Bring conditioned clay with you (2 oz each of black, white, and 4 colors), your pasta machine, glass tile and basic tools, and of course, your extruder. $25.
POLYMER CLAY GUILD MEETING: Starting at 3 pm, come and join us as we have established a new guild in the northeast Florida area. Everyone is welcome…do let me know if you would like to join us so we can properly prepare space: (904) 829-8829.
POLYMER ROCKS: This is a class for all skill levels. We will make beads that imitate real rocks. When they are worn, they are lovely and lightweight! We will make our own "inclusions" and gravelly bits that imitate the texture real rocks. If you have a few favorite pebbles, bring them for inspiration. $40, all materials included.
RESIN BRACELET: There are many available bracelet blanks, into which you can drop photos and tiny trinkets and cover in resin. The results are ultra-personal, nobody will have one like yours. What a great way to commemorate a family member, or a place that you love…plus, it's fun to work with resin! $45, includes all your supplies.
SHELL SPOONS: How adorable! This will challenge your wire wrapping skills, and give you ideas for fabulous hostess gifts and Christmas presents! You can purchase some lovely shells in the area, or use some of your found shells. We will drill holes, incorporate beads, make braids and spirals and more. $20 includes drilling and wire, beads extra.
SINGLE PINWHEEL BRACELET BRACELET: One of Kim Williams' designs, this bracelet can be made with different size beads. One variation (8ºs and 11ºs) is easy to learn on, and the other (11ºs and 15ºs) make a very dainty, pretty bracelet. We're just doing a single row in this class, but like the photo below, you can also make it wider with a double or even triple row! $35, plus supplies.
SOLDERED CHARMS: I finally figured out how to not melt ALL of my rubber stamps to make these very relic-looking charms. Lead-free solder gets melted onto a copper blank, a pattern applied with a rubber stamp and voila'! Something cool appears. We will use the torch with this project, so gear up your courage and come join us. $45, includes your supplies.
STAR BRACELET: This is a very delicate beaded bracelet using a couple of new style beads: 4 hole tile beads, and size 11º and 8º demi beads! Another one of Kim Williams' creations, you will enjoy making these quick components up. $35, plus your supplies.
TANTALIZING TASSELS: Tassels have been all the rage in jewelry for years, but why not make your own and make it unique to you and your style? We will cover basic tassel construction, materials, caps, attachments and more. Various styles will open up your imagination to more. $20 class fee, some materials included (chain, bead caps, beads may be extra), or bring your own!
TORCH FIRED ENAMELING: This is such instant gratification! You can create your own shapes, or we will use copper blanks and create some colorful earrings and pendants! $45, your supplies included.
TORCH FIRED ENAMEL – Intermediate: If you've already taken the basic class, then let's step it up. We will cut shapes from copper sheet and make an all-in-one bezel to hold your enamel masterpiece. You will also be introduced to liquid enamel, translucent enamels, and a technique called "sgraffito" to create your designs. $55, supplies included.
VIKING KNIT: This is actually an easy wire weave technique, yes, developed by Vikings to use in armor. Instead, we will make a great bracelet. You will learn more about wire, make your own loom, and the class includes finishing. End cones and clasp extra, but all your other materials are included with the class fee of $35.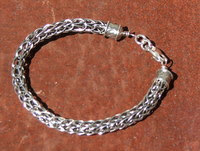 WEFT WEAVING: A beginner project, we will thread a warp of linen thread, and weave in color with beads and your stash of embroidery floss. Your finished pendant will be 2″ x 3″, plus fringe. This technique is easier than it looks…you will love it. $30, includes macrame' board, pins and warp thread.
WICKED WITCH BOOKMARK: Timed for the season…but makes great Christmas gifts too. Yes, some people still read old fashioned books! We will use polymer clay for all of it, plus a little paint for the shoes. A little sculpting will be involved, but other than that it's pretty easy. $25, all materials included.
WIRE PEOPLE EARRINGS: These fun little folks make a great conversation piece…slightly asymmetrical and swingy, they will attract attention! We'll shape and hammer wire parts, and connect them with beads of your choice. $25 class fee, includes materials.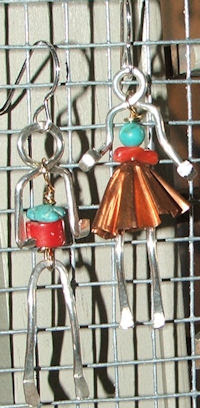 WIRE WEAVING: MODIFIED SOUMAC WEAVE: This will be a two part class…you will learn the weave in the first class, and when you have finished the length, we'll schedule a date for the clasp, construction and patina. $50, includes your materials.
WIRE WORK: Learn all the basics of working with wire. We will discuss wire's characteristics, tools, and patinas. We will doodle with wire, make links, clasps and ear wires, do some simple wrapping, and use heat to ball up ends and produce color. $30, includes your materials.
Also on facebook…if you haven't "liked" the bead chick's page yet, now's the time!
Also, Els Heber teaches our silver-smithing classes by appointment. They are 2 hours long, cost $55 plus your supplies (usually about $10 – $15) and you make a ring or pendant (with bezel) on your first try! Just call! We'll make a date…(904) 829-8829.